Skylift for rent in Yerevan
Armkran is a branch of an international group of companies in Armenia and the Republic of Artsakh that provide skylifts for rent from own base. All equipment is owned by the company, and undergoes weekly maintenance. Our base includes more than 15 pieces of equipment of skylifts with a height length from 14 to 80 meters. All our equipment has swivel cradles, as well as various variations of working cradles - 1,2x0,9m, 3,2x1,5, 4x2 meters. The load capacity of the equipment varies from 200 to 1000 kg.
Japanese and Korean car towers
Our company has been engaged in sky lify business since 1996, and we have tested all kinds of chassis and installations for durability and workability. Practice and time have shown that the most fault-tolerant, convenient, and reliable are Korean and Japanese skylifts based on Daewoo , Hyundai , Mitsubishi  and Isuzu, in particular Hansin and Tadano installations. In our work, we use exclusively the firms described above, which gives us competitive advantages among similar companies, which often use unreliable Russian, Chinese and Italian installations. The work process is significantly accelerated due to the thoughtfulness and accuracy of Asian technologies, and technical complaints occur in the rarest cases of failure of components and assemblies. Nevertheless, all our equipment is equipped with protective mechanisms and sensors, which, even in case of a serious breakdown, will help to safely lower the workers of the cradle to the ground.
Rent of telescopic aerial platforms
We invite companies to cooperate! If much more equipment is needed for work, we are able to organize the delivery of car towers from other countries and regions in the shortest possible time. We value each client and are proud to carry out our work, knowing that it is an integral link in the chain of development of construction and the economy as a whole. We work around the clock, 24/7 seven days a week Volume discounts for regular customers All machines undergo weekly maintenance and daily inspections.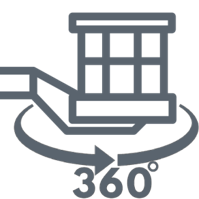 All the car towers have swivel cradles and basket controls